Here we look back on the inaugural regional Under-15 Championship which saw 18 Caribbean nations compete… While many of you would have been drooling over the start of the new Premier League campaign, there was an equally as important event taking place in CONCACAF in mid-September (13th to 25th): the inaugural Under-15 Championship hosted on Grand Cayman Island. Its aims are very simple: to promote youth football and development in CONCACAF through an international competition which saw 22 teams participate. 18 of those were from the Caribbean. There were four groups with every island preparing well in advance for the tournament. For most of these youngsters, it was an opportunity of a lifetime to travel with the squad and experience playing against other professional teams. However, there was some very unfortunate news beforehand. Trinidad & Tobago were forced to withdraw after failing to secure plane tickets for the flight over. "For the past two weeks, seats on flights coming out of Trinidad and Tobago for groups have been extremely challenging to secure. While our request for tickets was submitted several weeks ago to our main financial supporter, Ministry of Sport and Youth Affairs, the Ministry only recently authorised our booking on August 12," explained the Trinidad and Tobago Football Association (TTFA). The team was initially scheduled to depart early in the week but was delayed due to the unavailability of flights following the late release of funding from the Ministry of Sports.  The TTFA continued its efforts to secure air passage but was unsuccessful with all flights either through connections in the Caribbean or Panama City being fully booked until next week. Shawn Cooper, the coach, couldn't hide his bitter disappointment. "It's a damaging thing. I don't know how many of them will recover from this experience because at this point in I cannot recover." Dominican Republic also withdraw due to "lack of economic resources." Despite this, the tournament still carried on. The first round of matches were contested on 13 September in Groups A and B, 14th in Groups C and D. Santokie Nagulendran was our Group A correspondent… Group A – Cayman Islands (hosts), Bermuda, Aruba, Bahamas, US Virgin Islands, Sint Maarten Best Team: Bermuda
Manager Andrew Bascome (see above, right)) assembled a talented squad for this Under-15 competition: Bermuda went undefeated throughout the group stage and played attack-minded football whilst crucially maintaining a defensive backbone.  Having helped legendary Manchester City player Shaun Goater develop as a youngster, Bascome – who's also in charge of the seniors – is no stranger to honing talent, and his experience of coaching has led him to France and Spain in order to develop his knowledge.  "I try to gain as much knowledge as possible to provide for the kids. We believe in hard work as well as talent and commitment. And those are the things that are going to make you a good player." Bascome said ahead of the tournament. This is a team that really showed an abundance of hard work and skill, with players such as Osagi Bascome (see above, left) – Andrew's nephew –  and Oneko Lowe showing consistency throughout the group stages and standing out as exceptional talents. Osagi, especially, drew plenty of admirers and his uncle thinks highly of him. "He passes well, has good vision and is very committed.  A good trainer, doesn't give any problems and is always willing to take in information as effectively as he can." Bermuda were done on penalties against Guatemala in the semi-finals (there are no quarters, just straight passage from group to semis) following a tightly fought 1-1 draw. They are the Caribbean side that reached the furthest stage of the event (plus they were awarded the 'Fair Play' award for their clean play). Key Player: Leighton Thomas Jr
Without a doubt the player who stole the headlines was Cayman Islands' crazy-haired, 14-year-old midfielder Leighton Thomas Jr (see above in red), who bagged an astonishing 12 goals over the course of the five group games (including five in his side's 12-0 victory v Sint Maarten in the Group A opener). A big, athletic player, he caused defences problems throughout the competition and a bright future beckons. ''His distribution of the ball is quite good and he's also a great ball winner, he is basically a complete player at only 14 years old," boasts Cayman's technical director, Ardin "Cheeky" Rivers. "Not many players in the Caribbean can you say that about." There are big hopes for him in the future, with Thomas himself dreaming of a move to Europe one day. Although a very offensive-minded player who pushes forward as the game progresses, the Future FC man's preferred position is ironically that of a defensive midfielder. A defensive midfielder who scores five in one game? Woof. Surprise Team: Cayman Islands
The hosts really managed to shine during the tournament and will feel unlucky not to have made it to the semi-finals, having missed out by a mere 3 points. As well as the contributions of Thomas Jr, the team benefitted from being in excellent physical condition, which allowed them to maintain consistently good performances as the tournament progressed.  The reason behind this level of performance was down to their training regime: they trained four days a week in the build-up and played friendlies against professional clubs from Honduras and Panama. The squad is also home to a few players who ply their trade overseas: Sebastian Martinez is at Swindon Town and Kray Foster is with Reading. "The players from pro clubs bring experience and knowledge and in the sessions others players mimic that. They show leadership to the team." said manager Owen Dinnall. But perhaps most significantly for the tiny island is the economic boost this tournament has provided. Cayman Islands Premier the Honourable Alden McLaughlin touched on this at a press conference on Thursday.
Honourable Mentions: Aruba hotshot Jean Pierre van der Linden scored 10 goals altogether (including six against US Virgin Islands (USVI) on Day Three) and looks a brilliantly gifted goal scorer. Bahamas finished respectably in 4th with boss Niko Mosko very proud of his boys. "They have worked very, very hard and I say unequivocally that I am very proud of them." Finally, USVI may have only registered one win, but their goalkeeper Nick Muriel (see above) is considered legally blind with a short-sighted condition. He doesn't let it get in his way, though. "It's a thinking man's game, you have to be smart and think of the possibilities and outcomes," he enthused. An inspirational story. A big thanks to our Group A Reporter Santokie. Track him down on Twitter @San_Toki_ Group B – Jamaica, St Lucia, Grenada, Guatemala, Belize Best Team: Guatemala
There were just three Caribbean islands in this group and neither pulled up any trees. Guatemala stormed ahead right from the off, dispatching five past a star-studded Grenada. They then convincingly beat St Lucia 5-1 before securing narrow victories over Belize – who finished in 2nd place – and Jamaica (see above). Ultimately, the quality in their squad was far superior to that of the other teams and they were unlucky to lose in the Final, 2-1 to eventual champions Honduras. However, this serves as a telling reminder of the current gap in talent between Central America and the Caribbean. Still lots of work to be done. Key Player: Chelon Edgehill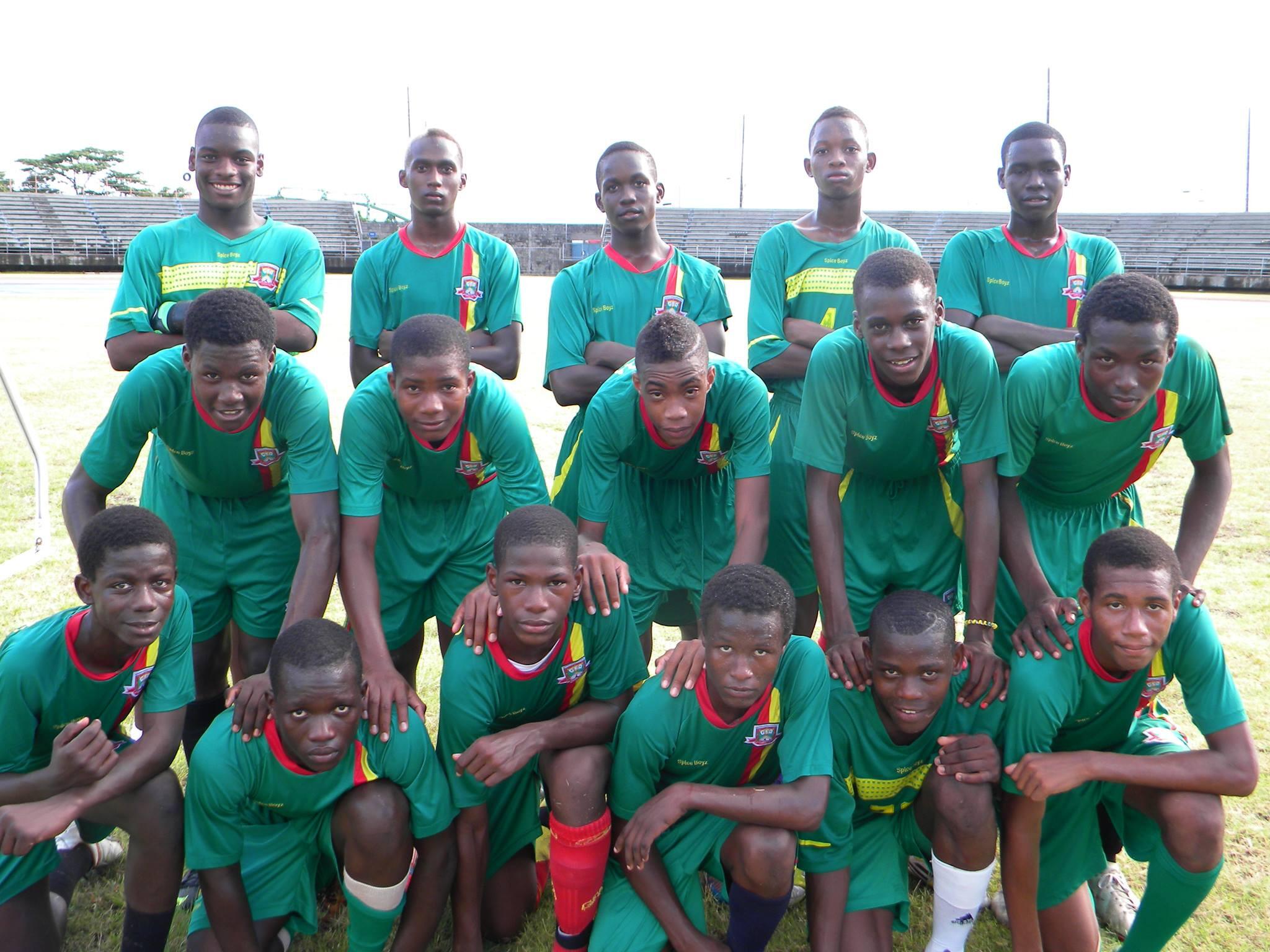 Despite Grenada's lowly finish, their star striker Chelon Edgehill still made a considerable impression. A precocious young talent, Edgehill was the side's most imaginative influence in the opening 4-0 drubbing at the hands of Jamaica but lacked support. His first goal came in the 14th minute in a comfortable 2-0 win over St Lucia, before he followed it up with another in the final fixture against Belize. He looked exciting, fresh and his relationship with fellow forward Rickell Charles (also on target v St Lucia) – although nascent – has the ingredients to be a fruitful one. The next Jason Roberts? Maybe. Surprise Team: Jamaica 
A surprise, yes, but not in a positive way. Much more was expected of Jamaica (see above) as they overpowered their Caribbean counterparts but crumbled against the Central Americans. The stage was set for them to spring a surprise for two reasons: a) coach Fabian Davies and a handful of scouts from the Jamaican Football Federation (JFF) carried out an extensive scouting programme in the summer. "A couple coaches, who are a part of the [national] setup and I, went out and tried to get the best players from around the island. The group I have right now is not bad and each day the quality of play has improved. They are growing slowly together," he explained before the tournament kicked off.
And b) the country's Under-17s have been developing so rapidly (qualified for World Cup at that youth level in 2011, finishing bottom of group but did manage draw to France), that many envisaged the Under-15s emulating their recent success. But there is an underlying flaw in Jamaica's youth system as former national football director, Alfredo Montesso (see above, right), from Brazil, states. "I think that without a consistent youth programme within the clubs in Jamaica we are really denying the young boys the opportunity to develop. If you look at our youth players, Under-17, Under-20 and Under-15 which we will be starting on the national level, those players are attached to the school system. Don't get me wrong, I am not criticising the school system, but it's no good for them to play 12 games per season," he said. "I think we really need to establish a programme because right now we are just driving a car and don't know where we want to go, so when you drive a car and don't know where you want to go, then anywhere you get to will be good enough for you." The Brazilian resigned in late July after just three months in that role. Compatriot and National Under-20 coach Luciano Gama also resigned from his post, on July 31, and likewise returned to Brazil. Montesso's comments might appear like a rant, but he is right. There is room for change and maybe there will be following this competition. Honourable Mentions: St Lucia finished rock bottom after losing all four games, amassing a paltry one goal and conceding 10. But they still kept their dignity throughout and they only lost by one goal to Belize – who finished group runners-up on nine points with attacker Alvin Sifontes racking up a total of three goals. Group C – Guadeloupe, St Kitts, Saint-Martin, Curacao, Honduras Best Team: Honduras
The future looks bright for Honduran football. Their Under-15s (see above) ran out convincing champions after ruthlessly picking up maximum points in the group before seeing off El Salvador (semi-finals) and Guatemala (Final). The statistics are pretty jaw-dropping, especially for such a youthful team: 18 goals converted, zero let in. Four games, four wins (including two 5-0s, one 6-0 and one 2-0). No-one could keep chase. The closest at doing that was Guadeloupe, who even so were three points adrift. The country's victory owes much to their performances on the pitch and is testament to their graft and hard work to make this happen.  It's also worthwhile noting Darixon Vuelto for Honduras, a prolific attacker who scored six goals all in all, including two braces. Key Player(s): Geordy Choisi, Geovannie Lake & Federic Raymond
I'm going to be naughty here and pick three key players that stood out for their respective sides. Firstly, Geordy Choisi made a habit of opening the scoring (on '28 against Curacao, on '3 against St Kitts) and was an all-round threat. Manager Frank Louis was able to coax Choisi, without simultaneously jeopardising the morale of supportive frontman Loic Antonides who also found the net regularly. Meanwhile, Geovannie Lake (see above) – based at Chelsea Academy as part of a programme run by Digicel – carried St Kitts on his back (not literally!) for large parts as he scored an impressive four goals including a double in a 2-4 win over Curacao. Mobile, tactically aware and cool infront of goal, which is great credit to him considering he used to play in defence. "I started out football playing the centre back position and then moved to the striking/forward position. I prefer playing the forward position because I love scoring goals," he said. Finally, Saint-Martin may have endured a rough ride in the competition but they can take heart from the fact their star asset Federic Reymond scored four goals – the pick of the bunch his last in a 1-4 victory over Curacao  to complete his hat-trick. Surprise Team: Guadeloupe
It would have to be Guadeloupe. Little was expected of them but they were relatively close on the tail of table toppers Honduras and the squad excelled. Players such as the aforementioned Choisi, Luther Archimede, Lory Chouan, Heindrix Hebreu, Benoit Gedeon and the supremely named Ludwig Francillette grew as the tournament went on and they'll walk away from this better, more experienced individuals and competitors. The Under-15s give hope to a senior side which is currently stuck in stagnation.
Honourable Mentions: Although Curacao were on the end of a good few spankings they can still learn and benefit from this experience. 13-year-old winger Naisier Guanipa's (see above in red and blue, pictured at Curacao Soccer Academy's summer camp) comments preceding the event were interesting. Asked on all the other countries featuring at the championship, which team was he most looking forward to locking horns with? His response "I don't know what the level of play of other teams is." And that, in a nutshell, explains why perhaps Curacao fared so badly. They didn't know what they were getting and stumbled because of it. Plus, I know it's been mentioned but credit to the Honduran backline for not conceding even a single goal. That's some feat and really shouldn't go unnoticed. Group D – Martinique, Haiti, Antigua, Puerto Rico, St Vincent & Grenadines, El Salvador Best Team: El Salvador
It's a reoccurring pattern: the Central American teams finishing top of the group. But it was a lot tighter in Group D with Martinique and Haiti both finishing on 10 points just one off El Salvador (see above, right). It's odd because Martinique actually scored the most and conceded the least (15, 3) yet were beaten to the number one spot. I guess that just shows that it's a results business and points win you matches. El Salvador were consistent throughout regularly winning by three goals and they should be proud of their semi-finals achievement plus their third place finish (thanks to beating Bermuda 2-0 in the Third Place Match). Key Player(s): John Henriquez & Javorn Stevens Puerto Rico gave a good account of themselves and so did striker John Henriquez who netted three altogether (double against St Vincent & Grenadines) and the winner against Martinique (see above). The goal in the video very much sums him up: powerful to shrug off the defender and then efficient in the box. Javorn Stevens, another striker, displayed plenty of thrust and dynamism to score the same amount: also a brace against St Vincent and one v Haiti. Stevens earned a glowing review from the Antigua Football Association's Twitter account @AntiguaFA, who were providing match updates on all the team's group games throughout. Both looked like raw, developing talents. Surprise Team: Martinique
Inspired by their senior counterparts (see above) following their admirable Gold Cup run in the summer, Martinique's Under-15s exceeded even their own expectations. The team won three out of five and were good value for the victories. Having lost in the opener against Puerto Rico they bounced back tremendously with a 0-4 rout of Haiti and then 7-0 thumping of St Vincent & Grenadines. Hedson Nattes, Kendrick Agot, Kondjo Zebina and Bryan Mont all found the net frequently and Nattes, in particular, was impressive at operating the channels. Martinique will feel somewhat disheartened not to have qualified for the last four.
Honourable Mentions: Haiti (see above, left) pushed Martinique all the way to second spot, accumulating 10 points and only finishing third on goal difference. Puerto Rico enjoyed a memorable tournament, scoring the second highest amount in the group (14) yet ending up fourth. Antigua (see above, right) fought tooth and nail in every match and did win one atleast (1-2 victory over St Vincent in Georgetown on Day Two). For St Vincent, meanwhile, the 12 days out on Grand Cayman were all about garnering experience and using that to develop in the future. All in all, it was a fantastic debut event (with 90 goals scored (4.73 per match) and one that will hopefully continue for a good number of years (both Men's and fingers crossed Women's). Sustainability is integral to CONCACAF now and competitions like this – where youth is the main focus – will only help contribute to a better future. Islands that hadn't played competitively for a number of years were finally given a go, aspiring footballers in their early teens were given the opportunity of a lifetime and significant coverage went to the youth teams of 22 CONCACAF sides which can only be beneficial economically and socially. *Apologies about the sheer length of this but we wanted to give it as much exposure as possible. *Please note: pictures from CONCACAF.com, @GrenadaFootball, Klass Sports Radio, SKNFA.com, North Jersey.com, FFK Curacao Football Federation's Official Website & CompassCayman.com, videos via @FutbolPR_ & CONCACAF.com You can track us down on Twitter @caribbeanftbl