Here's what people are saying about The Home of Caribbean Football. 
See above: Nominated as a finalist for the Best International Football Blog category at the 2016 National Football Blogging Awards held at Old Trafford, Manchester. Over 60,000 votes were taken in the nominations round with over a 1,000 different blogs nominated.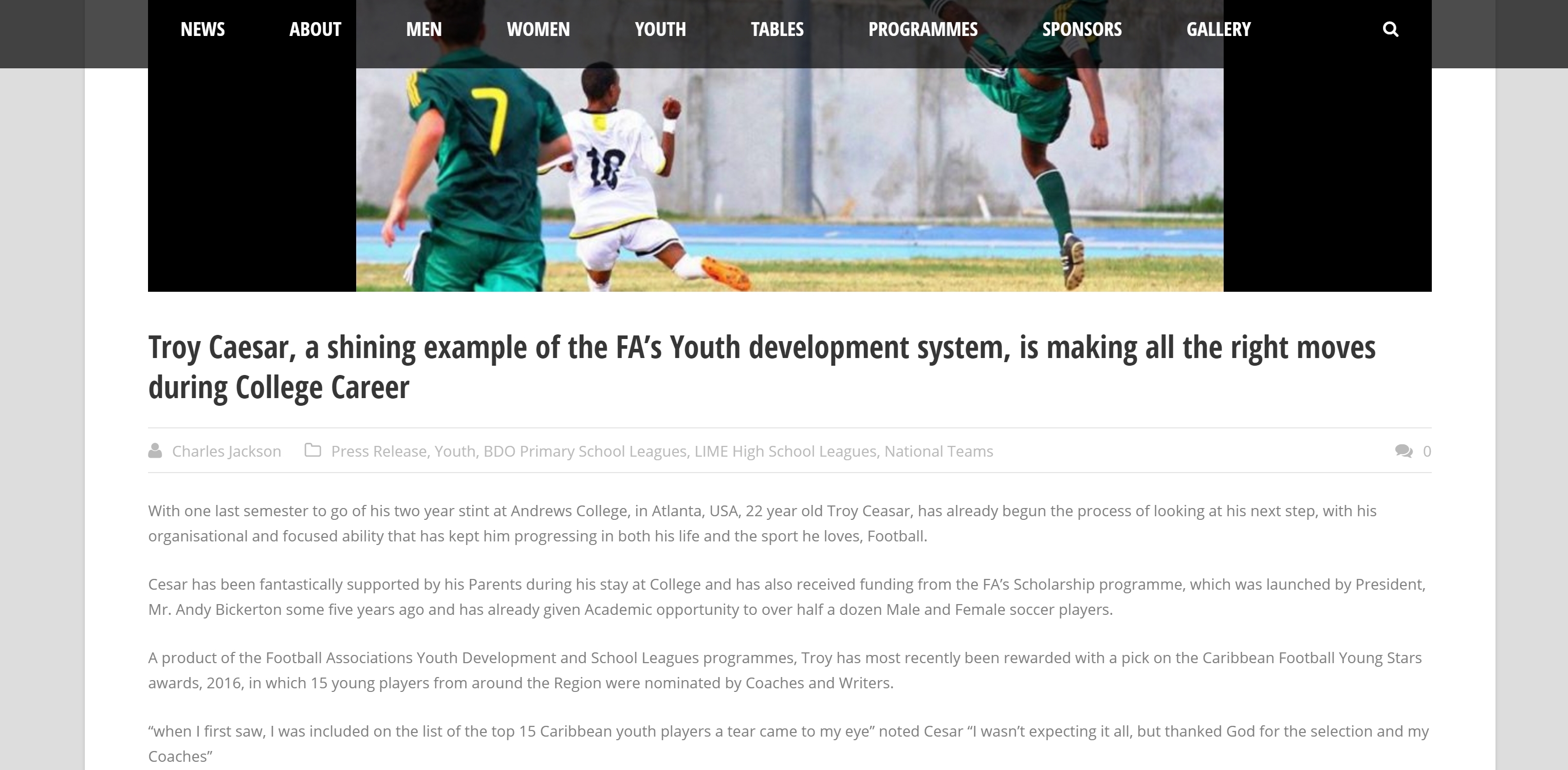 See above: 'Carib Young Stars' (2016) mentioned on the official website of the British Virgin Islands Football Association.
Featured in the 'top 100 football blogs to follow in 2015' in 2015 by Left-Wing Soccer
Voted in the 'top 25 football writers on Twitter' in 2013 by 90 Second Football
"For a lot more on Caribbean football be sure to follow. Nathan's got you FULLY covered!" Shaka Hislop, former Trinidad & Tobago International and Premier League goalkeeper
"I've really learnt a lot from reading The Home of Caribbean Football and I've enjoyed it being a resource for me. Well done with everything." Jason Roberts, former Grenada International and Premier League striker
"Best wishes and complements for your role in promoting the game in our region. Stay blessed." Alex Bunbury, Guyanese-born Canadian Hall of Fame Footballer
"Keep doing what you're doing, Nathan!" Paul Canoville, Chelsea's first black player
"Okay, there aren't swathes of blogs covering Caribbean football, but if there were, there's only one I'd visit…this one!" In Bed With Maradona
"A noble and promising initiative." Lasana Liburd, Trinidadian football journalist
"I get all my info from The Home of Caribbean Football. Nathan provides the best insight for Caribbean football and the growth of the beautiful game in a beautiful part of the world." Keasel Broome, Barbados International Goalkeeper 
"Thank you for your work and the job you're doing for Caribbean football. Keep up the good work." Justin Hoyte, Trinidad & Tobago International
"Keep doing what you're doing, Nathan! For years people deep in the investment of growing Caribbean football have known of you and your brilliant work." Faizal Khan, President of Georgetown FC and a FIFA licensed agent
"Reliable, up-to-date and articulate. Great to read up on the next generation of stars." These Football Times
"A phenomenal resource." Andrew Vahrenkamp
"A great blog that offers up-to-date information on the growing football world in the Caribbean. Well-written articles and it has become one of my favourite blogs. Nathan's hard work is opening lots of eyes to lots of emerging talent." Natasha Henry
"Nathan has tirelessly promoted Caribbean football for free for years, he's a force for good. The coverage is second to none." Paul Watson, author of the book 'Up Pohnpei'
"I'm happy The Home of Caribbean Football and your social media platforms exist. The Caribbean people needed a platform, so thank you for coming through." Crystal Davis
"The clue's in the name – quite simply the go-to blog when it comes to football in the Caribbean." Sabotage Times
"Keep up your excellent coverage of Caribbean football. You are a gem." Hillan Morean
"Glad to see someone who appreciates the Caribbean game as much as I do. I hope to see a lot more from you! Keep up the excellent work." Steve-o Jones
"A fantastic wealth of knowledge about the growth of the world's biggest sport in one of the most misunderstood areas on the planet. I cannot speak highly enough of the hard work and effort that Nathan has put into the making of this resource. A huge thank you." Jonathan Harding
"I've benefited greatly from your commentary and your knowledge of the players." Peter Allen
"It's the only place I look for on Caribbean football. Everything you need with fantastic analysis. One of the best niche football blogs." James Masters, journalist for CNN and The Times
"The Caribbean appreciates your diligent work!" Jonathan Coicou
"Shining a light on one of world football's few remaining dark corners, Nathan's tireless efforts to provide updates on the Caribbean region is both impressive and inspiring." Dan Rawley, editor of Oceania Soccer
"A very interesting and informative blog that is in an invaluable resource for everyone interested in Caribbean and CONCACAF football." Paulo Freitas
"The one-stop shop for all the information you could possibly want on Caribbean football." Kenny Millar, journalist at The Scottish Sun
"Does an excellent job uncovering compelling stories – both from domestic leagues and from players based abroad – that would otherwise never come to light in this under-served region." Jon Arnold, editor of Goal USA
"The Home of Caribbean Football is our go-to source for all things related to Caribbean football. Not just as it relates to the schedule and scores but for analysis on the development of players and teams. The coverage is beyond exceptional." Ursula Petula Barzey, editor of Caribbean & Co
"In the growing quest for widespread football knowledge from around the world, The Home of Caribbean Football is one of the most informative sources on a massively under-reported region of the global game." Will Savage
"The Home of Caribbean Football is proof that the most rewarding of ventures are born out of passion and pursued with conviction. An essential source for those searchers out there." Joe Harman
"I don't know of a better outlet for both club and international soccer throughout the Caribbean. The name is no lie." Jason Anderson, editor of Black & Red United
"One of the best allies in the international football blogosphere." Ed Stubbs, editor of Non-FIFA Football
"It is great to see such a nice resource dedicated to Caribbean football backed up with interesting articles." Michael Rouveure, SXM Deals, excursions and charters in St Maarten
"The Home of Caribbean Football is the go-to blog for the beautiful game in that part of the world. We've been lucky enough to showcase some of Nathan's work on The False Nine and his unique insight and exclusive interviews have always made fascinating reads and proven very popular with our audience. Keep up the excellent work." Hugo Greenhalgh, editor of The False Nine
"A wonderful blog with a diverse range of articles." Liam Lee
"I just wanted to say what a great blog you have. I will be checking in on the latest news from the Caribbean from here on out. All the best." @LFCKirstyLFC
"An exhaustive and insightful mix of news, previews, match reports and feature articles on one of the global game's more neglected corners." Michael Hudson
"You won't find a better source for Caribbean football than this blog. Well worth a follow." Scouted Football
"For the real in-depth stories from the world of Caribbean football this is the only blog I refer to." Mark Godfrey, editor of The Football Pink
"One of the most respected football blogs, taking the reader on a journey across the region. Incredibly well researched." Stephen Stratton, editor of Beware Flying Footy
"When I was 10 a man called Arnold Dwarika came from Trinidad to play for my local side, East Fife, he was an enigma to us…if only The Home of Caribbean Football had been around in those days that enigma could have been solved." Alastair Moncrieff, editor of All Or Nothing Mag
"Brings insight and enthusiasm to a too often over-looked part of world football. Niche but in a really awesome way." Alex Stewart, editor of putnielsingoal
"The international market for players is vast. When we want to know about Caribbean players that are connected to Philadelphia Union, we read The Home of Caribbean Football." Ed Farnsworth, editor of Philly Soccer Page
"I've long been interested in Antiguan football and was delighted to find a blog so knowledgeable on the football that goes on within the Caribbean. I've enjoyed many great discussions with Nathan and his excellent blog." Pete Sharland
"This is an absolute must stop for anyone interested in the wonderful football being played throughout the Caribbean region. An invaluable resource for fans and journalists alike." LensoisInTheUSA
"The Home of Caribbean Football is bursting at the seams with refreshing content – a wealthy CONCACAF source for football writers and readers alike. If it's not in your bookmarks by now, you're missing out." Charlie Hare
'They say that every day is a school day and I've been educated well by avidly reading The Home of Caribbean Football.' Laura Jones
"There's hardly an abundance of blogs about Caribbean football, but there's no need for there to be anymore when a blog providing such extensive coverage as this one is around because there'd be no competition. It's hard enough for me to keep up with Jamaican football when I live so far away from the island itself, but Nathan helps me feel a lot closer by keeping me updated with all the latest news and views." James Truscott 
"Highly original content, extremely well delivered. Definitely one to keep an eye on." Natter Football
"From Antigua to Trinidad, this is the number one source for reliable and informative content on all things related to football in the Caribbean. Great content." SSFC Rumors
"An invaluable resource." James Bennett 
"Quite simply the go-to place for top quality pieces regarding Caribbean football. Individual, well-informed and wonderfully constructed." Josh Bland
"This blog is a valuable resource that helps give Caribbean football the coverage it deserves." Giles Metcalfe
"Brilliant content!" Luke Taylor
"A rich resource for a virtually untapped football landscape." Stevie Green
"Outstanding, original blog with fantastic content." Jonny McConnell
"A concept that will well and truly grab your attention. Nathan offers a fresh, interesting look at the unique world of Caribbean football." Josh Lawless
"Despite the internet leaving very few stones unturned when it comes to football, Caribbean football remains an unknown quantity…and Nathan does a great job of filling in that blank." Sam Tighe, journalist at Bleacher Report UK
"A fantastic blog for all things Caribbean football. No need to go anywhere else." Adam Barlow, co-host of the Women's World Football Show
"Football is enriched with diversity, to have a blog dedicated completely to Caribbean football shows you how global this game really is. A fantastic initiative." Outside Of The Boot
"Engaging and intelligent articles throughout. Essential reading." Santokie Nagulendran, editor of Guyanese Football 
"If you're looking for Caribbean football news, this blog is on it." Billy Grant, from Beesotted Brentford Blog and Football Supporters Federation Board Member